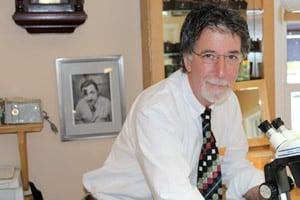 Alan Kasson
Alan joined the business in 1976 after completing his BFA in Graphic Design from Ohio University. Alan was always very artistic, and found that by making jewelry, he could express himself creatively. He achieved a degree as a Gemologist in 1993, and is one of few to receive the prestigious title of Certified Gemologist Appraiser by the American Gem Society.
Credentials & Recognitions: Gemologist since 1980 | Member of American Gem Society* | President of Kasson Jewelers, Inc | Past President & Vice President, Connecticut Guild, American Gem Society | Member of Fairfield Chamber of Commerce | Member of Fairfield Arts Council | Board Member of Eagle Hill School in Southport, CT for 6 years | 20 Year Achievement Award, Certified Gemologist Appraiser (awarded by American Gem Society)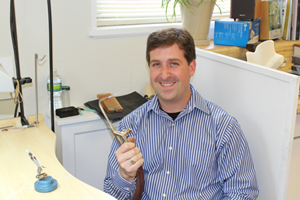 Michael Kasson
Michael Kasson, third generation, received his BFA from Syracuse University in Jewelry Design.
Upon graduation, Michael moved to San Francisco to pursue setting classes at the Revere Academy, a highly respected and specialized jewelry design and manufacturing school. Michael took several courses there that taught him how to properly secure various sizes and shapes of various gemstones, and received certificates upon successful completion.

Beyond the Revere Academy, Michael was ready to permanently indent his footprint into the family business. With the masterful teaching of his father Alan, Michael set up his lifelong dream to make a name for himself in the family business. Michael's ability to design, with his multi-influenced style of metal smithing provide the knowledge and expertise customers expect from him.
"The quality of my jewelry will always be something that I am proud of. I want my jewelry to be durable, and made to last everyday wear. My style was popular years ago, is today, and will be tomorrow."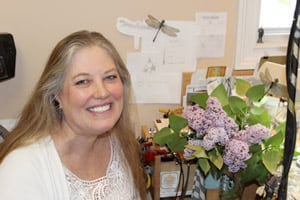 Susan Bishop
Susan Bishop is a natural born artist! Her remarkable talent became evident in her early years, and was perfected through her various experiences over the last 30 years. Throughout Sue's life one thing has remained constant — her creative passion and enthusiasm for her life's work. Sue has been creative in many mediums throughout her life: ceramics, clay, enamel, and metal sculptures, and jewelry fabrication and design. In high school, Sue realized jewelry design, and teaching others to make jewelry was in her future. While attending Boston University's School of Artistry, she was offered and accepted a teaching position in the Adult Ed program for Basic and Advanced Jewelry Fabrication.
Sue had the opportunity to work along side well-known designers in the jewelry industry before embarking on managerial positions. She was responsible for overseeing the quality of workmanship for up to 15 jewelers and 3 designers at a time in her first retail environment. Sue thrived in the retail jewelry environment because of her extraordinary abilities and skills to communicate with customers. She will draw and fabricate or carve a wax simulation to meet or exceed a customer's expectations.

When asked what Sue likes most about working at Kasson Jewelers, she said:
"I like Susan and Alan Kasson's warm honest approach to serving customers and their integrity in running a successful jewelry business. And the artistic creative freedom to help customers bring their ideas to life and make their dreams come true."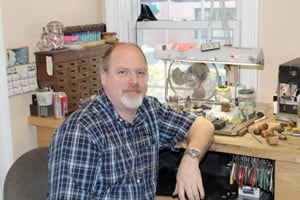 Peter DeHahn
Peter de Hahn, Master Gem Setter, Jewelry Designer, Metal Fabricator and Lapidary expert, comes to Kasson Jewelers with over 30 years experience. He began his career in metalsmithing and precious gems at age 14; over the years he explored the areas of ancient, exotic and current cutting-edge metal techniques, and attended the School of Museum of Fine Art in Boston where he was invited to teach a course for teachers on the ancient Japanese metal technique called Mokume. Additionally, he attended The Appalachian Craft Center (ACC) and Penland in North Carolina.
Pete previously owned and operated a business specializing in custom jewelry design, and restoring intricate jewelry pieces. His clientele included fine jewelry and antique stores along the Connecticut shoreline. After being an entrepreneur, Peter was recruited to manage a jewelry manufacturing company in Litchfield County before returning to work in Fairfield County, all the while exhibiting and winning awards for his unique designs.
His diverse training and experience has enabled him to acquire vast knowledge. Pete can fabricate designs from casting, wax carving, mold making, and working with Platinum, and Gold. Pete is certainly someone to consult with on a challenging design, or a work of jewelry art.
When asked about working at Kasson Jewelers, he said "it couldn't be better; we make very high quality jewelry in a light hearted atmosphere, where every piece is a new and exciting adventure!".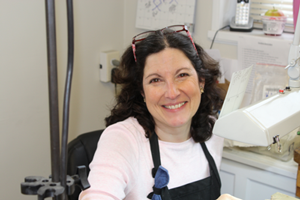 Kim Taylor
Some people were born to be doctors, or lawyers. Kim Taylor was born to be a master goldsmith, a master hand engraver and a master wax carver. Kim got her start in metalsmithing at age 14, and no more than a year later, she was making a name for herself. At age 15, Kim won a gold medal for her jewelry at a nationwide art contest sponsored by Trifani. Not only was she the sole recipient of the gold medal in the state of Connecticut, but Kim went on to receive one of ten gold metals given to the most gifted high school art students in the country.
In 1979, Kim discovered that she had an incredible talent for hand engraving and wax carving. She began teaching herself everything there was to know about the art, and in 1985, she went on to own and operate a hand engraving and wax carving business. Kim is very fortunate to have learned skills along the way from several master goldsmiths, all of whom were trained in countries such as Chile, France, Austria and Italy. All of their styles have helped mold Kim into the artist that she is today. Additionally, from 1988 to 1990, Kim went on to teach at the Pelissier School for goldsmiths.

Kim has been using her masterful jewelry making skills at several well known jewelry stores across Fairfield county since 1976, and now has 40 years of being a metalsmith to her name. She continues to grow as an artist and a master jeweler every day with the brilliant ideas our customers come in with. Kim puts all of her heart and passion into her work, and the end product is always a marvel to the eyes. We are very fortunate to have Kim Taylor as a part of our team.

"The work of my hands is a delight for me, and I revel in every minute of it."